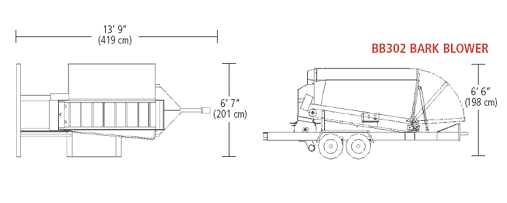 POWER
Diesel Kubota V1505, 33.5 hp (25 kw), 4 cylinder water cooled diesel engine
ENGINE SAFETY SYSTEM
Low oil pressure, high water temperature shutoff
CAPACITY
1.5 cubic yd (1.2m3)
FUEL TANK CAPACITY
15 gallon (57 liter)
BLOWER
500 cfm @ 10 psi (14 cmm @ 69 kPa)
EMPTY WEIGHT
4,550 lbs. (2,065 kg)
WORKING WEIGHT*
5,750 lbs. (2,610 kg)
TRUCK REQUIREMENT MINIMUM
6,000 lbs. (2,730 kg)
*Working weights are approximate and do not include options or stored materials.
*working weights are calculated at 700 lb/yd³ material (Heavy or wet mulch, soil, and compost can run much heavier, greatly affecting loaded working weights).
Finn Corporation has a policy of continuous product improvement, and reserves the right to change design and specifications without notice.
BB-302 Bark Blowers
The BB302 Bark Blower has proven to be the most popular Bark Blower for the small to midsize landscape company needing durability and performance on every jobsite. The BB302 applies landscape mulch and other bulk materials with unprecedented efficiency and eliminates the need for labor-intensive hand application. This unit significantly reduces worker fatigue, wasted materials, and unnecessary time on the jobsite by replacing them with a productive and performance-enhancing alternative.
FEATURES AND BENEFITS
1.5 cubic yard hopper capacity delivering more than 10 cubic yard of mulch per hour
Reduces material cost from 20% to 40% by breaking up material clumps and producing an even mulch spreading pattern, with fine particles on top
Mulch is propelled through a specially engineered airlock and blower system through various lengths of durable 4" flexible hose for application up to 200' away from unit
Remote controls allow operator to control power and material flow from an operating distance
Standard 150' hose comes with the unit, optional 50' sections available
Standard rear mounted hose reel
Blower, airlock and hydraulic functions are exclusive to FINN design


"How can we help you today?" Call 1-800-451-8838
---
The Sales Team
Tom Gordon In House Sales
Tom has over 50 years of experience in the erosion control field. Having owned an erosion control contracting firm he is well aware of the methods of success and the pitfalls awaiting today's landscaping firms.
Russ Collier In-House Sales/President
Russ has almost 40 years of experience in the hydroseeding, landscaping and erosion control field. Prior to assuming his current role with hydrograsscorp.com he worked for and subsequently managed a large and well respected hydroseeding business for over 30 years.
Chris Bacon Sales/Service Manager, New England and NY
Chris joined the Hydrograss team in 1999. Chris has almost 20 years of experience in the landscape industry. Currently, Chris is the Hydrograss Service and Sales Manager for New England and is also the owner of CB & Sons Equipment Company- a small rental company based in NH.