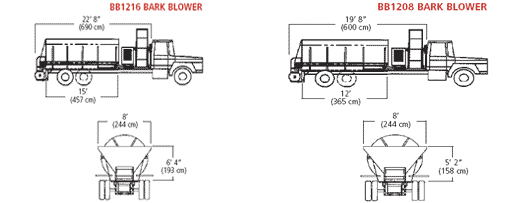 POWER
John Deere 4045D, Diesel, 115 hp (86 kw)
ENGINE SAFETY SYSTEM
Low oil pressure, high water temperature shutoff
CAPACITY
BB1208- 8.2 cu. yd. (6.3m3)
BB1216- 15.7 cu. yd. (12.0m3)
FUEL TANK CAPACITY
36 gallon (136 liter)
BLOWER
1,200cfm @ 14 psi (34 cmm @97 kPa)
EMPTY WEIGHT(W/REEL)
BB1208- 8,300 lbs. (3,764 kg)
BB1216- 12,720 lbs.
WORKING WEIGHT*
BB1208- 16,300 lbs. (7,400 kg)
BB1216- 24,495 lbs.
TRUCK REQUIREMENT MINIMUM
BB1208- 25,900 lbs. (11,750 kg) GVW
BB1216- 33,000 lbs. (15,000 kg) GVW
*Working weights are approximate and do not include options or stored materials.
*working weights are calculated at 700 lb/yd³ material (Heavy or wet mulch, soil, and compost can run much heavier, greatly affecting loaded working weights).
Finn Corporation has a policy of continuous product improvement, and reserves the right to change design and specifications without notice.
FEATURES AND BENEFITS
BB1208, with 8.2 cubic yard capacity, and BB1216, with 15.7 cubic yard capacity allow for blowing a greater variety of bulk material, even high moisture content is handled with ease
John Deere 115hp diesel engine providing exceptional power to the blower
Reduces material cost from 20% to 40% by breaking up material clumps and producing an even mulch spreading pattern, with fine particles on top
Mulch is propelled utilizing a specially engineered air lock system through various lengths of durable 4" flexible hose, for application up to 300' away
Remote controls allow operator to control power and material flow from an operating distance
Standard liquid injection system, hot air lead hose and electric tarp
Standard 200' hose comes with the unit, optional 50' sections available
Standard convenient hose reel allowing operators to efficiently start and complete each application with ease
Blower, airlock and hydraulic functions are exclusive to FINN design